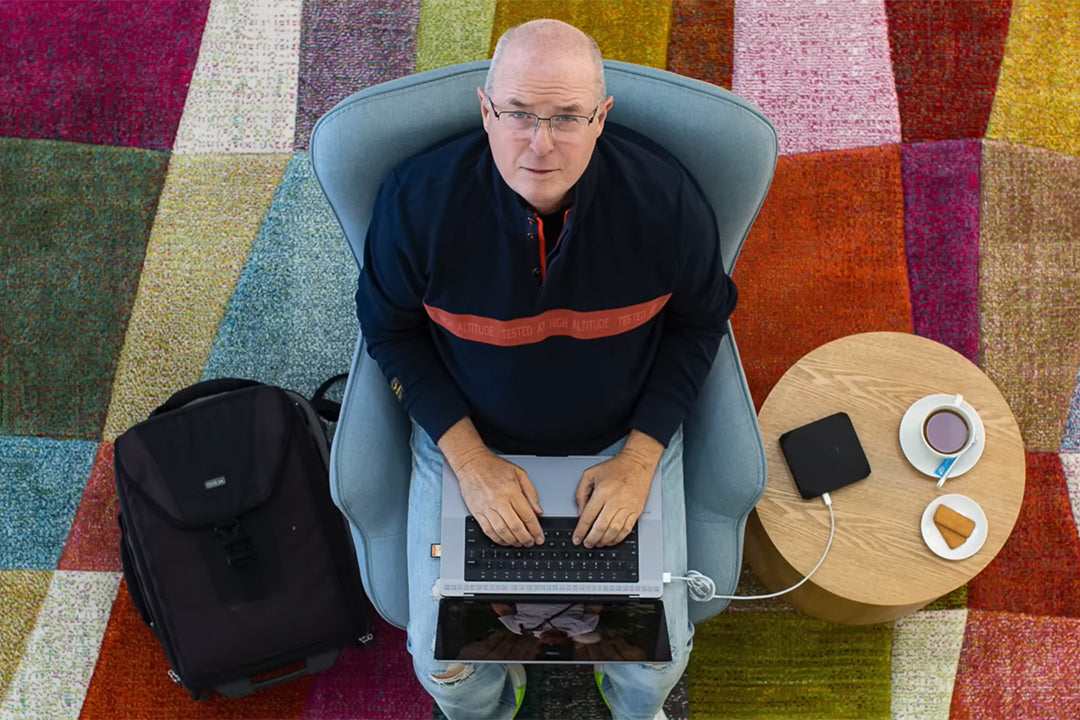 Omni Team
10 Nov 2022
Ambassador Spotlight: Kym Illman
ENTREPRENEUR
"This saves me up to 30 minutes sitting on media shuttles."
Kym Illman is a man of many hats. He is an accomplished entrepreneur, YouTuber, TikToker, and F1 photographer. He is also an ambassador of the Omni 20+, a flexible and reliable laptop power bank from Omnicharge.
Kym's Journey
Kym has had a successful career in marketing and customer service. He started and ran Messages On Hold (an international audio advertising company with clients in 18 countries) and Canity (an online customer service training platform for entrepreneurs). He still serves as the Managing Director of The Message Group up to date.

Away from entrepreneurship, Kym has a passion for photography. This passion was born while on a family safari in Africa with his wife after realizing he enjoyed photographing wildlife. Later in 2016, while serving as a corporate guest for Red Bull at the Abu Dhabi GP, he decided to specialize in Formula 1 (F1) photography.

Today, Kym is a full-time F1 content creator, focusing mainly on the people inside of the sport.

A Day in the Life
As an F1 photographer, Kym spends 12-14 hours each day at the track.

Some of the essential devices for his work include a camera, lens, and laptop. After taking great shots using the camera, he uses the laptop to edit and post them.
Since his work involves lots of waiting on track and short bursts of action, one of his main challenges is keeping his camera and laptop powered up.

He needs a power solution that guarantees fast charging, so he can spend less time charging his devices and more time on the track doing what he knows best.

Also, Kym moves about often in his line of work. And he can't afford to carry heavy power adapters wherever he goes. He needs a portable laptop charger that can charge all of his devices no matter where he is.
Powering Things Up With Omnicharge
While watching a tech review on YouTube, Kym came across the Omni 20+ and was hooked.

Since then, he does not need to move to the media center while on a shoot to charge his devices. He can stay on the race track for as long as he wants without worrying about his camera batteries dying.
In addition, Kym doesn't have to carry separate power supplies or a power board during his travels. With a portable power solution like the Omni 20+, he can charge his laptop, cell phone, camera, and any other gadget on the go.

Best of all, Kym doesn't waste time charging his gadgets. His powerful laptop power bank can recharge and, at the same time, charge an external laptop battery in under 3 hours. He can focus on his job knowing he has reliable power at all times.
"I can stay away from the media center between track sessions and edit pics on my laptop. This saves me up to 30 minutes sitting on media shuttles," he told Omnicharge.
Kym continues to share F1 content on his YouTube, Instagram, and TikTok pages. His popularity as a source of F1 content has continued to grow, and he now boasts over 790,000 followers across the three channels. To learn more about him or his work, follow him on these online channels or connect with him through his website kymillman.com.
Power solutions for any situation